Our decision to visit Gdansk was taken in one afternoon. We quickly closed our airline tickets and began searching for the ideal accommodation. Gdansk was the number one destination for 2018 according to TripAdvisor publications. "We were already excited!"
Greek Islands vs Gdańsk Poland
The truth is that leaving sunny Greece in the middle of summer was not such a wise decision. Despite that, we didn't change our plans in order to visit one of the northern Aegean islands! As you will understand we really experienced a unique experience in the "diamond" of the Baltic as they call Gdansk.
After about three hours of flying (direct flight from Athens) we arrived at Gdańsk airport. We took our luggage and called an Uber to take us to our apartment.
Approved tips:
#1 Moving with Uber is a great deal in Poland, since the fare is low for off-city journeys. We paid just 8 euros from the airport to the center of Gdansk, which is about 15 minutes away.
#2 Gdansk has been showing strong growth in the recent years, and as you will see, huge complexes of modern apartments are being built across the city. We stayed in one of these and paid just 196 euros for four days. Not at all bad, right ?! We recommend them undoubtedly as they are fully equipped with kitchen, electrical appliances and modern décor.
First walk in Gdansk
After we checked in we went to explore the streets of Gdansk and get a little taste of the city. The time was already eight o'clock in the evening and the day was slowly coming to an end. There, shortly before we found ourselves in the heart of the old town, we discovered two typical shops of the area and many locals enjoying their beer sitting on the sidewalks. Although it was Friday night, we would say that the pulse of the city was sluggish. In fact, we were looking to find Gdansk's life hidden.

Old town of Gdansk, Poland
A little further down the cobblestone streets we met Dlouga Street, which was full of people enjoying their walk holding an ice cream in their hand. A street literally made out of a fairytale, surrounded by colorful, glued together houses and flowers that warmly embraced the scenery. Plain musicians, painters, and all sorts of artists harmoniously encircled the setting.
A few words about Gdansk
Gdansk is one of the largest cities in Poland and hosts the country's most important port. It is crossed by the Motlava River, which gives it exceptional beauty and charm while it is bordered by the Baltic Sea. Gdańsk among others has rich vegetation, forests and large green areas. We would say it is a small paradise in the north of the country.It is a hospitable and authentic place immersed in its diversity. Traditional and smiling people are waiting for you in every corner. Bus, tram and train services work perfectly by giving access to all the surrounding areas. You can visit the cities of Gdynia and Sopot, the tourist resorts of the region within half an hour and a low ticket fare.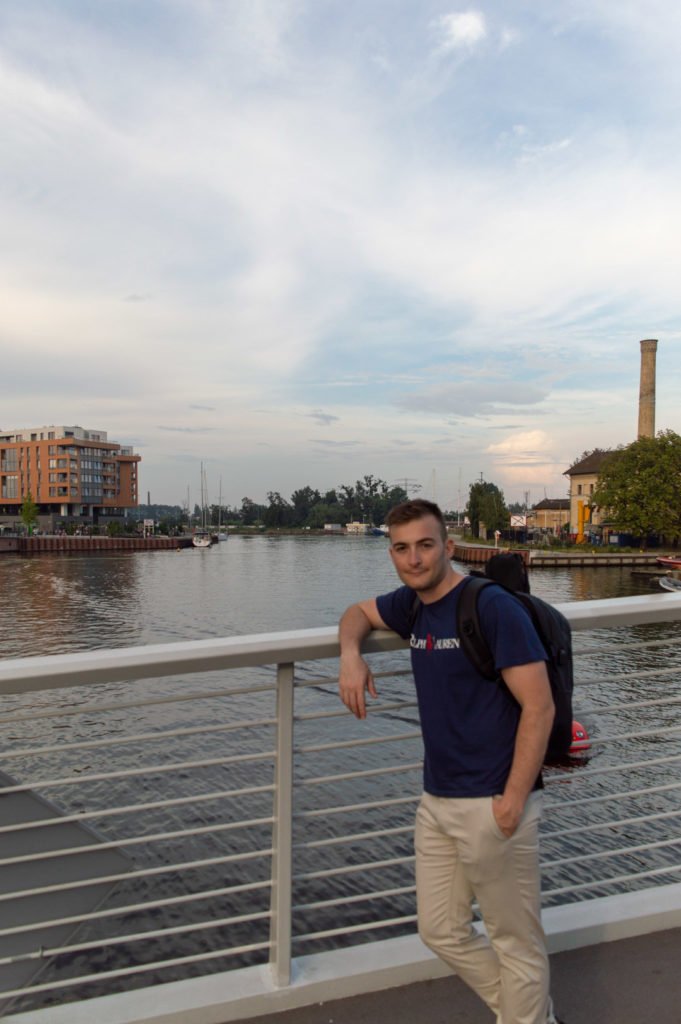 The Trójmiasto Metropolitan Area (Tricity)
Gdansk, Gdynia and Sopot are a large metropolitan area called "Trójmiasto" (Tricity). Read our experience for these two areas in our article here.
Interesting point of Gdansk
A special feature of this city is the countless cranes you can see on the Motlava River and the surrounding area. The scenery helps you realize that Gdansk was and has been the center of the shipbuilding industry in Poland since the medieval era.
The city of amber
Inside the Old Town is also Mariakka Street, one of the most romantic and historical streets of Gdańsk. There you can find many amber vendors and some of the city's most famous cafes. Amber is produced in the surrounding area and is considered to be the Baltic gold. Although it is not mineral sometimes it can be considered a gemstone. Amber has a shiny brown color that gets golden in the sun, taking all the shades of yellow gold.
Local flea markets
Inside the city you will find stalls with local dishes, clothing, antiques, gift items, paintings and everything else that fits your imagination. Small treasures waiting to be discovered. Something like Monastiraki in Athens! Owners spend their entire day there from early in the morning until about ten o'clock in the evening. Some even sleep in improvised beds or even in their cars.

What else to see in Gdansk
Since we only stayed for four days, we did not have the chance to visit many attractions. We held two that proved to be excellent choices.
St Mary's Basilica
Prepare to climb 400 steps to reach the church bell tower. Where the unique view of the city awaits you. The temple was under maintenance, however, you could distinguish religious objects and prayer spaces. Ticket is 10 zloty per person.
European Solidarity Center
It is an interactive museum of exceptional architecture and decoration. Perhaps the first museum we have met with an incredible acoustic guided tour and material. You can fully understand the modern history of the country and the social situation that prevailed. A flashback that starts from workers' strikes in ports and yards until the recent past. It is worth visiting. The ticket costs 20 zlotys per person.
Approved tips:
#3 Ice cream in Paulo Gelateria and you will remember us. Every day they prepare ice creams of different flavors and everything that goes out of it! Wonderful flavors with fresh ingredients.
#4 For coffee, homemade lemonade, beer or cocktails we have for you the best suggestions!
Coffee at Jozef Café overlooking the colorful old town houses and paved streets and the Perro Negro Kaffe for delicious latte.
Homemade lemonade and green tea in Fukafe (100% plant based) only located on the other side of the city and you will need to take the train.
Beer at Brovarnia Hotel Gdansk where you will taste beer brovarnia, the best beer of Poland!
Stunning cocktails at Inur Above of Puro Hotels overlooking the city.
Gdansk of Poland left us with the best impressions and compensated us with its authentic landscape and its traditional element.
Follow us on social media Facebook, Instagram, Twitter, Pinterest and Youtube to see rich photos and videos.