Sofia as a destination to be honest was not too high in our preferences. However, low airport fares made us choose it as a stop for a multi-day trip to Northern Europe. On Saturday 29 December, we were in El. Venizelos ready to visit frozen Sofia. The flight lasted only an hour and we had a great trip.
The first impression
For anyone who does not know Sofia there is a metro that serves many areas and stops. This was the transportation we used to leave the airport. 12 stops to get to the centre, Serdika stop. Metro was pretty clean and decent. The ticket for one route cost 1.60 Leva for about 80 minutes, while the daily Leva is about 2 euros. Shortly before we reached our destination, we decided to take a short stroll in the city. Besides, for the check-in at the Airbnb apartment we had booked we wanted two more hours. Our feelings were mixed as we saw two different sides of the same city. On the one hand, the center offers relaxed walks on the other while you get away, you realize that the city needs a lot of work to get closer to a more western way of life.
What we will keep from the capital of Bulgaria
Admittedly, Sofia is not one of the capitals that will leave you with your mouth open. You will not find bright lights or frantic rhythms on its streets. The city moves at its own idle pace. Although it was just two days before the New Year's Eve, the streets were virtually empty. Few tourists on the road (many fellow Greek travelers) and everything was going on a calm pace. Although this atmosphere and with a willingness to explore we kept 10 places that are interesting to see when you visit Sofia!
#1 Walk across Vitosha Street
We are talking about the most busy and central street of Sofia. Shops, cafes, restaurants all tucked up on a beautiful paved road. Ideal place for walking, jogging and shopping. Here is the heart of the city. The liveliness of the particular road is one of its characteristics that makes it unique. But what complements the canvas of the landscape is the view of the mountain that stretches before you. We got it snowed. His white strokes made us believe that a good fairy stroke it with white dust. Indeed, it was one of the most beautiful places in our journey.
#2 Alexander Nevsky Cathedral, Sofia
It is one of the largest orthodox cathedrals in the world, and its capacity is about 6,000 people. The temple is a symbol of Sofia as it stands majestic and wonderful. His Neo-Byzantine rhythm makes him unique and worthy to visit. The gilded dome of the temple reaches 45 meters high while the bell tower with the twelve bells at 53 meters. Its interior is full of images. The decoration is extremely simple and has no chairs except two or three wooden benches. Entrance is free of charge.
#3 For soups at Supa Star
If during your travels you walk a lot like us for a long time of the day in the cold you will definitely need a hot soup. Supa Star is the first shop in Sofia that serves at least six different soups daily. The place is friendly and warm. Do not be fooled by the small entrance. There is plenty of space on the upper floor and the service is self-service. We chose pumpkin soup, sweet potato soup with ginger and chicken soup. For all this, we paid less than 10 euros.
#4 Serdika archeological place
The archaeological site of Serdika is very close to the city center and just outside the metro. In fact, as we read most of it was discovered recently in the construction of new metro lines. It is a bright, clean, clean area that is small in size. The Rotunda of St. George is one of the most important pieces of ancient Serdika. Entrance is free of charge.
#5 Visit Shtastlivesta restaurant
Shtastlivesta restaurant is the most beautiful and colorful space that comes out of a fairytale we have visited so far. What to say? Large sofas with heavy fabrics? The beautiful flower hanging from the ceiling? The comfortable armchairs that made you feel like a king? A shopping dream in the most central part of Sofia. Our floral setting created euphoria and energy. We chose an asparagus with aubergines and a Bulgarian salad, which reminded us of Greek flavors. The main dish was a variety of meat with a sauce that pleasantly nourished the palate. For all of this, we had to pay about 30 euros and both together.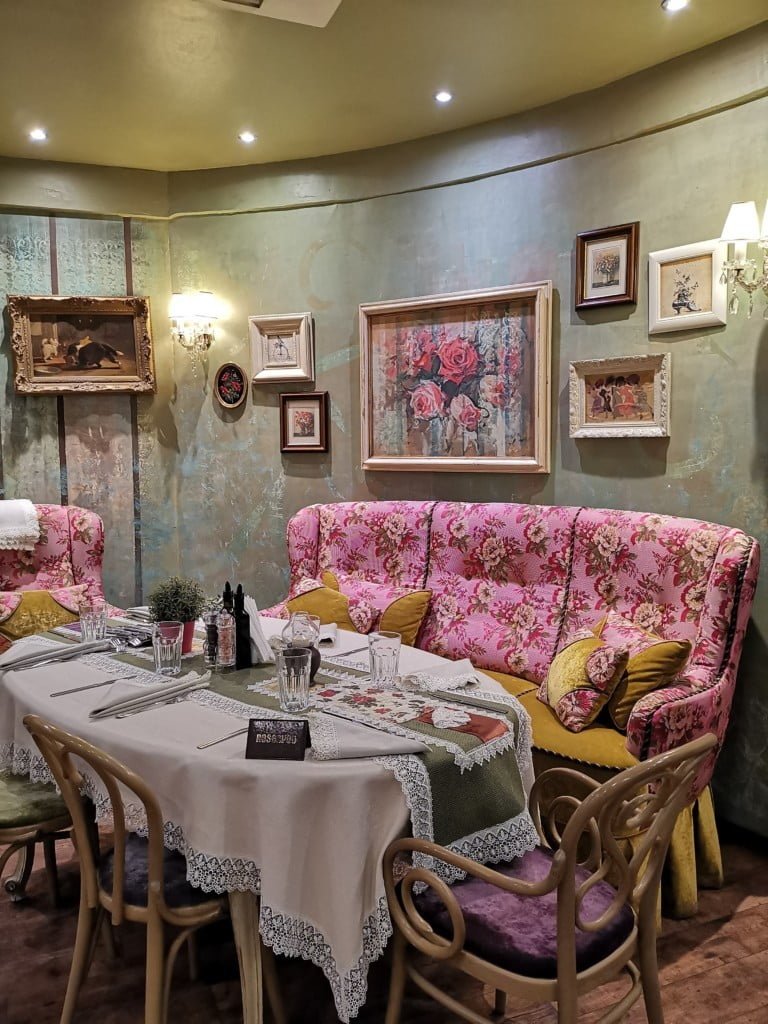 #6 For drinks go at «The apartment bar»
A normal apartment house, the most hipster bar in Sofia. Keeping the internal layout of a normal home and low lighting welcomes you to enjoy a relaxed drink or taste delicious sweets. The walls are painted in bright colors and some are strangely geometric, not just shapes. This particular store is suitable for all those who want literally to relax onto spacious sofas or large pillows on the floor. You will find scattered books, paintings and many other objects you find in any home. To order you have to visit the kitchen and get yourself the products you like, which are homemade and made with fresh ingredients. It is open daily from 10am to 2am in the morning. Prices are more than friendly, since with 2 or 3 euros you can enjoy a drink and alcohol.
#7 Take a visit to National Theatre of Ivan Vazov
It was founded in 1904 and is one of the most important sights of Sofia. It has a large central tent that seats 750 seats, one smaller with 120 seats and another one with 70. Even if you do not manage to get inside you a walk to see it close will compensate you.
#8 Breakfast or Brunch
Whatever choice you want to make this shop will fufill your most demanding needs. Are you for salty delicacies or sweet delicacies? Whatever answer you give, Rainbow Factory 2, will be a highly enjoyable experience. We ordered a salmon brochette and another one with eggs and sausages, two natural orange juices and shared a homemade sweet with blueberries. For all of this, we both together 15 euros.
#9 Coffee at Memento
Memento Coffee is located on Vitosha Street, the city's most central streets. The friendly staff welcomed us and quickly served the world's most delicious chocolate! Okay, we're exaggerating a bit. The coffee shop has been awarded as the best coffee shop in Sofia for 2016 and 2017.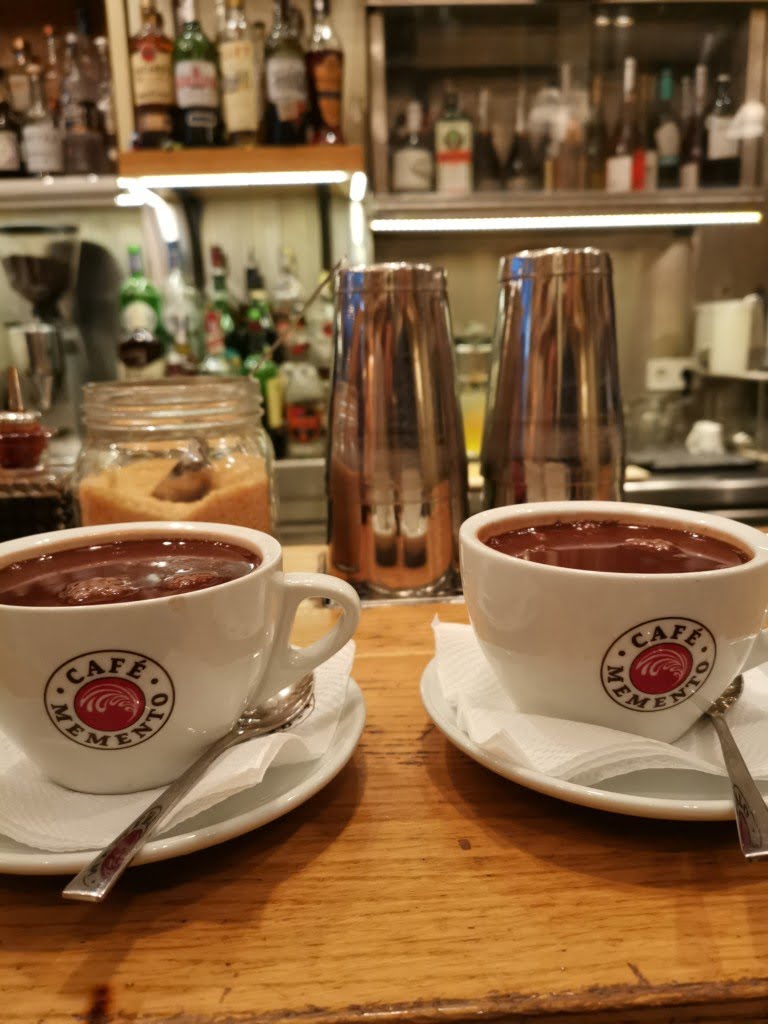 #10 Traditional food and atmosphere
Of course we are talking about Hadjidraganov's Houses. A well-kept cellar offering unbelievable Bulgarian dishes. It has traditional décor and a constantly burning oven. Servings are enormous and in normal prices. We chose the juicy chicken and a fresh salad. We paid about 20 euros both.
If you are looking for more exploration, you can still visit the Regional History Museum and the Russian church Sveti Nikolay Mirlikiiski. You can also read about our experience from another Balkan city, Romania here.